Petwant has developed a unique automatic feeder for dry food, that will allow you to feed your pet even when you can't stay at home. The volume of the feeder is 4.3 liters.  The smart device offers manual control, backlight display, voice recording and a backup power supply. The top of the feeder is closed with a safety lock.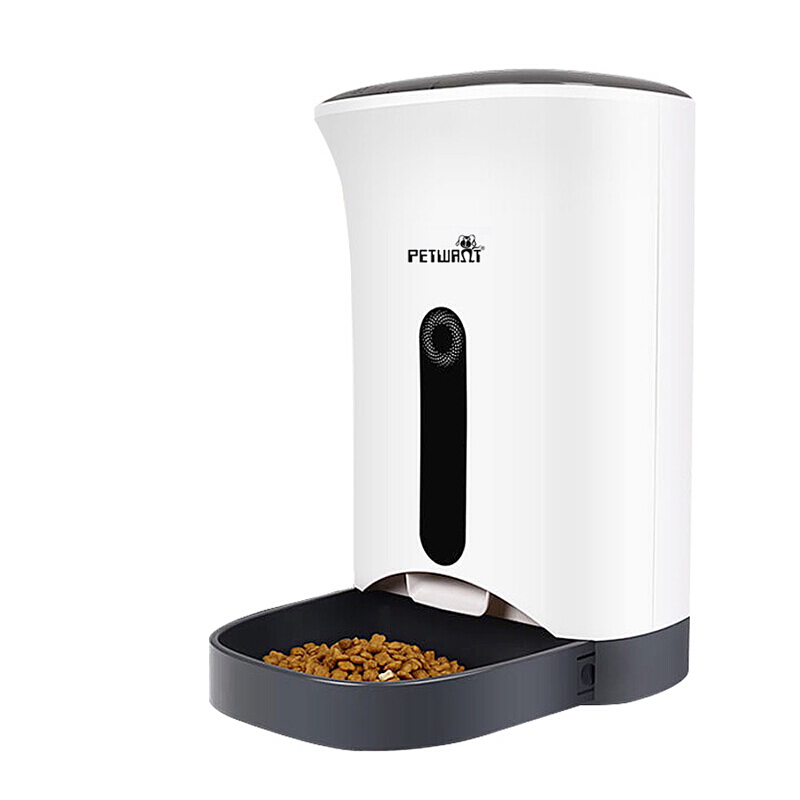 Main functions:
Feeder with manual settings
Backlit LCD display
The volume - 4.3 l (dry feed)
Removable container and bowl
Safety lock

Voice recording option up to 10 seconds

Battery as a backup power source

10-100 g for one portion

Suitable food size -  up to 1.5 cm
Feeder dispenser: a revolution in the care of your pet!
This is unbelievable! Just take your smartphone and you will get immediately control over the nutrition of your pet. It does not matter where you are, you need to click on button, and your pet will hear your voice and get access to food, in additional you will be able to look at your furry friend.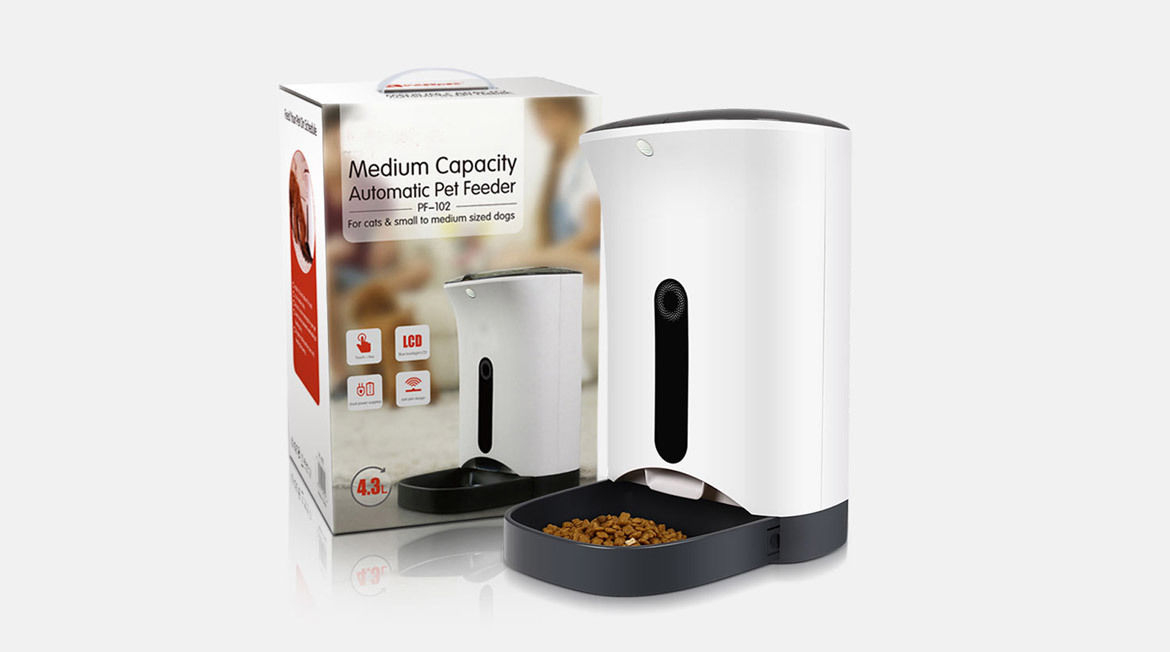 Do you want to take care of your pet more carefully? Get a feeder with the function of saving the feeding history. Model Petwant 103 can be controlled by using a smartphone with a built-in webcam, which will allow you to monitor the reaction, take photos and shoot videos.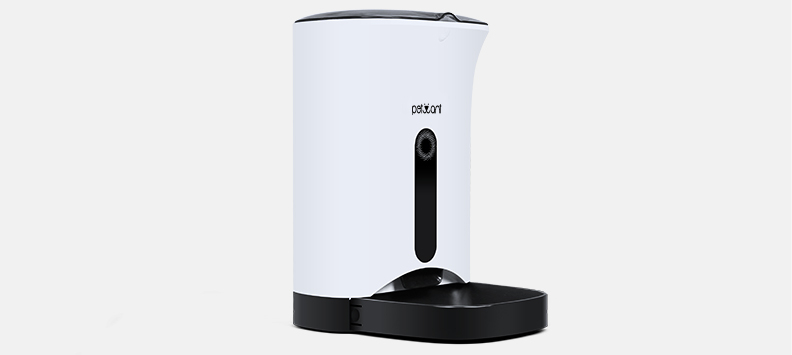 Easy handling and maintenance. Petwant PF-102 - is what you need! 
It is enough to fill the container with dry feed and set the delivery time for each portion. You set the mode manually and allow your pet to receive food up to 4 times a day, wherever you are. You can record a short audio, which will be played when it's time for the next feeding.
For easy operation, the container and bowl can be easily removed, so you can easily clean and wash it. The feeder also has a safe lock on the lid, you just need to press the button.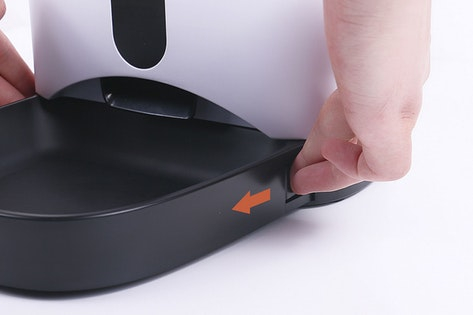 A specially designed simple control panel with small buttons and a backlit display will help you to manage the device.
A specially designed simple control panel with small buttons and a backlit display will help you to manage the device.
The automatic feeder is popular among breeders, not only for its ease operation and time saving, but also for its ability to control the feeding mode. If your pet needs to follow a diet, with the feeder you can easily control the portion size. A big advantage of the feeder is the cover with a safe lock, thanks to this, the pet will not eat more than it should.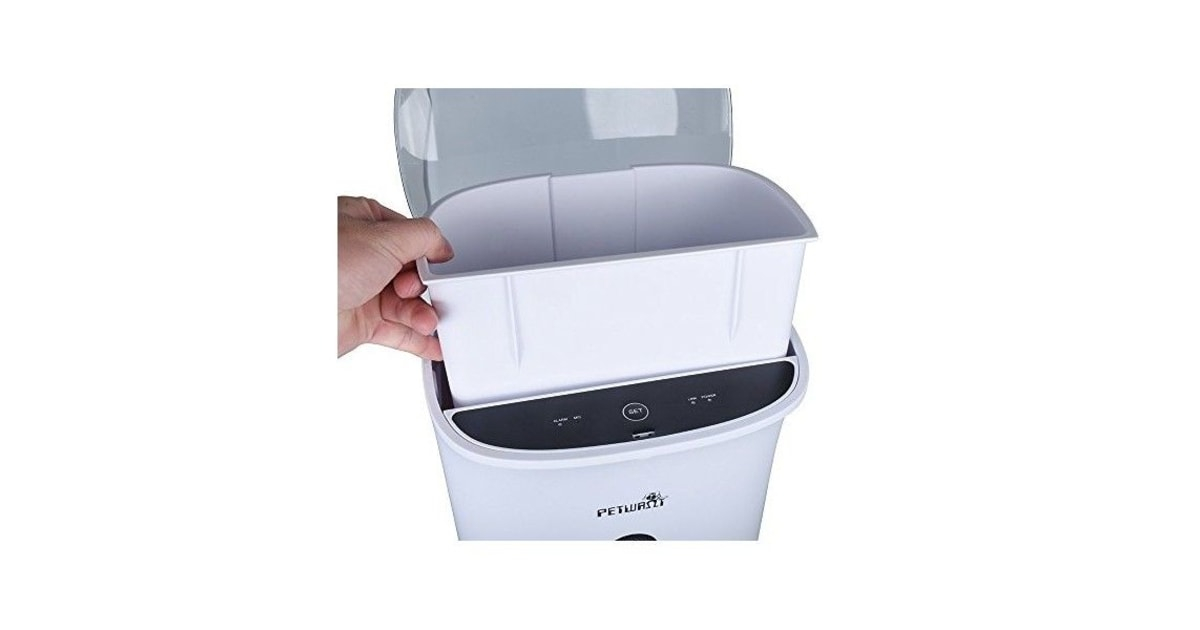 For each portion, you set the time at which your pet will receive a portion of food directly into the bowl. You can set portion sizes in the range of 10-100 g.
The device is made of ABS plastic, which does not contain harmful Bisphenol A.