30 day
Money Back Guarantee
Petwant F1 - Automatic feed dispenser with camera
Petwant F1 - automatic dispenser with camera that allows you to not only feed your pets regularly, but also talk to them, record videos and take photos. The dispenser has remote control on your smartphone app, where the feeding history will saved. 
Main functions:
Dispenser with camera for photo and video
App control on your smartphone
Saving feeding history
4.3 l dry feed capacity
Removable tray and bowl
215° camera with night vision
Security lock
Two-way microphone
Free app!
Voice recording
Set 4 meals per day, from 1 to 10 servings per meal
App available in English!
Battery as a backup power source (3x D batteries)
Fill with granules up to 1.5 cm in size
Dimensions of the feeder: 41 × 27.5 × 21.4 cm
The intelligent feeding dispenser: a revolution in pet care!
It's incredible! Just take your smartphone and your pet's care is under control. No matter where you are, you can cheer your pet with your voice, see how he's doing and give him a food by the simple touch of a button on your phone. All this thanks to the new Petwant smart dispenser with built-in camera.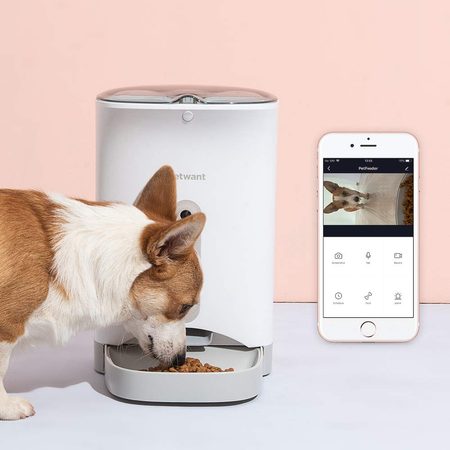 With the Petwant dispenser, you can talk to your pet at any time and listen to their reactions. Contacts, videos, and photos are functions that support your relationship with your pet. A 250° camera with night vision allows you to check on your four-legged friend at any time and capture all the nice moments in a photo or video. But what really makes taking care of pets even more consistent is the function of saving your pet's feeding history. The amount and frequency of your pet's feedings can be viewed on a clear graph. Any deviation in the usual routine is immediately recorded, and the data can be easily compared.
Easy operation and maintenance - everything you want from a dispenser!
Just fill the special container with granules and set the feeding time. You can set the mode manually as well as in the app wherever you are. With the automatic setting, the dispenser will feed your pet when they approach the device and the infrared sensor detects them. The feeding tray as well as the extra bowl are easy to remove, that makes the device easy to clean.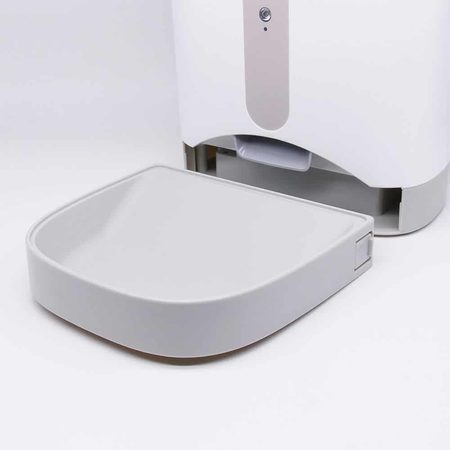 The feed dispenser is easy to use thanks to its simple control panel. The conveniently located buttons are specially designed for quick and easy operation of the dispenser.
Сontrol your pet's diet all the time!
Automatic feed dispensers are becoming more and more popular, not only because they are easy to use and save time, but also because they give you complete control over your pet's eating habits. If your four-legged friend is on a diet, the feed dispenser makes it easy to give him just the right amount of food. In addition, thanks to the safety lock, there is no risk that your pet will somehow get uncontrolled access to food.
For each serving you set the time or directly unlock the dispenser at that moment, so your pet gets the right amount of food. You can set individual feed portions from 10 to 100 g. So you can feed your fluffy friend exactly according to his specific health conditions.
The dispenser is made of ABS plastic, which is easy to clean, and does not contain harmful Bisphenol A.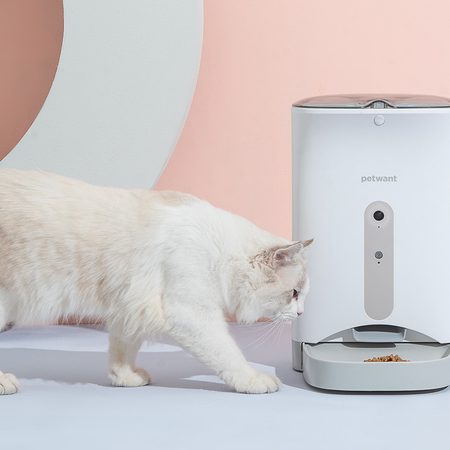 Benefits
Handicaps

Feed dispenser with camera
Control via your smartphone
Images and videos available
Two-way microphone
Time and portion size settings
Health-friendly material
Saving of feeding history
Simple controls
App in English
Voice recording
For small and medium pets

Not for large breeds
Not for outdoor use