30 day
Money Back Guarantee
Petkit Fresh Element 3 - 5 l
The INSTACHEW PETKIT Fresh Element Smart 3 is a great solution for feeding Pet especially when you are not free for your pet. The Fresh Element Smart Pet Feeder 3 is a great solution for pets of all sizes have a feeder that can adjust to their needs while keeping their food fresh. The feeder dispenses your pet kibble without getting stuck during feeding times. The bowl rotates to distribute food evenly to prevent food from accumulating. Using the interactive app (iPhone & Android), create a feeding schedule for your pet uniquely tailored to their needs, while an emergency power supply ensures your pet never misses a meal. The application also shows how much food was delivered and left. The dispenser is equipped with a built-in rechargeable 2,600 mAh lithium-ion battery that lasts up to 2 weeks.A backup power supply ensures that your pet will never run out of food, even during a power outage. The 5 litre dispenser can hold up to 2.6 kilograms of kibble.
Product Highlights:
Smartphone control Set up a feeding plan, long-range remote, one key control and receive notifications via the PETKIT App. Easy control of the feeder via the smart app on your mobile phone for Android and IOS devices. 
Concealed food outlet to lock the freshness
The newly designed food preservation structure locks in time after the food are delivered and prevent pet messes. Low food sensor this pet feeder automatically notifies you when food levels are low; you'll also receive an alert if the hopper becomes empty.
Built-in lithium battery, uninterrupted power supply Equipped with a built-in rechargeable lithium battery, it ensures that Fresh element three will still dispense food as normal even in a power outage.
The newly designed food preservation structure locks in time after the food are delivered and prevent pet messes.
Rotating bowl to prevent the food from heaping up
Voice recording and calling function.This brand new voice recording and call function allow you to interact better with your beloved pet by enabling you to record your voice and automatically play when it is feeding time.
304 stainless steel, care for your pet's health- feeding bowl are both made of 304 food-grade stainless steel. It is durable and great for long-term feeding.
Non-slip feet on the underside - prevents the bowl from moving on the floor so your pets can have a peaceful snack
Control automatically or manually at the touch of a button
Dimensions:33,7 x 22,3 x 34,8 cm weight: 3 kg  
Capacity: 5 litre center column can hold up to 2.6 kg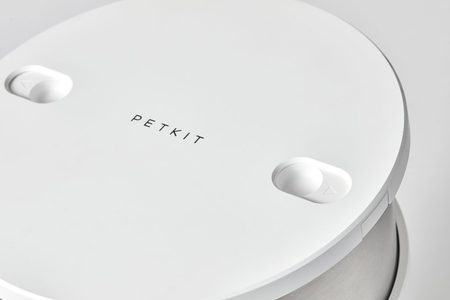 Control via smartphone 
Feed your pet anytime, anywhere using your smartphone. This automatic feeder uses the app on your mobile device to set the feeding times for your pet and portions. It will even tell you how much food is left while you are away. Aplikaci můžete bezplatně stáhnout pro Android a iOS. Pokud chcete mazlíčka na dálku rozveselit, nahrajte mu v mobilní aplikaci krátkou hlasovou nahrávku na které Váš miláček slyší a vždy těsně před krmením se přehraje a tím ho přivolá. 
App to download:
Andoid: https://play.google.com/store/apps/details?id=com.petkit.abroad&hl=cs&gl=US
iOS: https://apps.apple.com/cz/app/petkit-international/id994053492?l=cs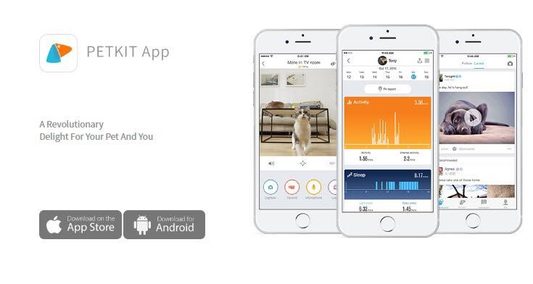 Easy maintenance 
The smart feeder is made of safe ABS plastic, that doesn't pollute nature, so you don't have to worry about pollutants. The dispenser uses a high-quality motor, quiet motor that can run for up to 2 weeks on a backup power supply. For easier handling, the pellet tray, as well as the additional bowl, is removable, so you can easily clean the product. The dispenser includes a stylish stainless steel bowl that is removable and can be easily cleaned. 
Benefits
Handicaps

Stainless steel bowl
Bowl capacity 5 l
Removable and washable design
Rechargeable batteries
Built-in weighing sensor

 

No camera or two-way microphone
Dry feed only