30 day
Money Back Guarantee
EYENIMAL Smart Bloom Pet Fountain
The Eyenimal Smart Bloom Pet is a modern, quiet fountain made of high-quality plastic that is suitable for cats and small dogs. The 2 liter volume allows you to get all your pets drunk and provide them with fresh, clean water at all times. Two different nozzles provide a fun drinking experience for your furry friend. The flower-shaped nozzle will provide visual enjoyment by dispersing water around it. A second nozzle creates a bubbling fountain that is guaranteed to catch your pet's attention. The Eyenimal fountain has a motion sensor switch so the fountain only turns on when a pet is near. The fountain can be used in 3 operating modes: normal, interval and motion. The triple carbon filter cleans the water in the fountain in three ways - it removes hair and dirt, the charcoal filter eliminates water odor, and the ionization handles heavy metals. Smart LED indicators alert you to filter changes, mode type and low water level.
Main functions: 
Motion sensor - the fountain activates when the cat comes closer
3 operating modes - normal mode: the fountain runs continuously, interval mode: the fountain runs for 2 minutes, then turns off for 3 minutes, motion mode: if the cat comes close to the sensor, the fountain turns on for 90 seconds.
Ultra quiet fountain - The fountain is super quiet, so it can be installed in the bedroom without disturbing sleep. 
Triple activated carbon filter - provides your pets with fresh, clean water every time. 
High-quality plastic material - the fountain is made of high-quality, health-safe plastic
LED indicator - with a light sensor, the unit signals when the filter needs to be changed or the water level is low
Red LED - for better visibility in the dark
Fountain volume: 2 liters
Cable length: 147 cm
Dimensions: 18.2 x 18.2 x 14.5 cm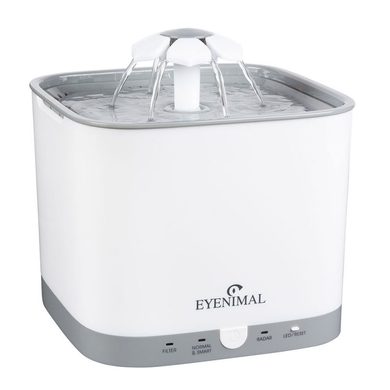 Why is fresh, running water so important?
Research has shown that one of the best ways to improve your pet's health is to drink more clean water, which Drinkwell® fountains do. Using a patented free-falling water system, fountains continuously oxygenate the water. A carbon filter removes any odors and unpleasant taste from the water, encouraging your pet to drink more clean, fresh water.
Benefits
Handicaps

Ultra-quiet operation of the fountain
3 working modes
2 water flow attachments
Smart LED indicators
Triple activated carbon filter
Red night light