Patpet T504 is a modern training collar with sound function and adjustable sound, vibration and pulse function. Up to 3 dogs can be trained at a range of 600m using a single ergonomically designed radio with a clear backlit LCD display with easy to access buttons for simple operation when training your dog and key lock to prevent accidental pressing. Short and long electrodes with rubber covers are included, making the collar very gentle and suitable for breeds such as the hairless or dogs that are sensitive or prone to rashes. After a 2 hour charge using the magnetic cable, the Patpet T300 collar will last up to 30 days in standby mode. The collar is waterproof it can only be used in light rain, however prolonged stays in water and diving are not possible.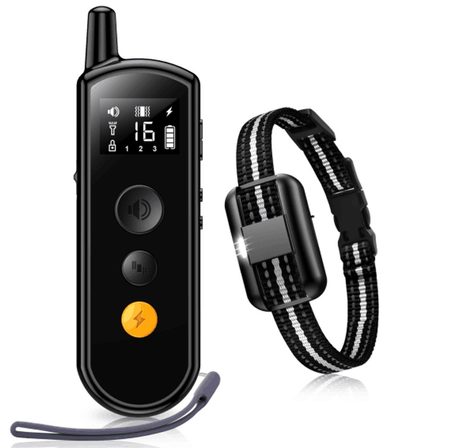 Type of correction:
The Patpet T504 training collar offers 3 types of correction. It can be adjusted by sound, vibration or electrostatic pulse. Vibration and pulse levels are adjustable in 16 levels, sound offers 3 levels. The collar also has a light function.

Range of the collar:
With the Patpet T504 training collar you can train your dog up to 600 meters. The range of 600 meters is sufficient for both basic and professional training of most dogs. The training collar can be used in the city as well as in the woods.

Batteries and charging:
The transmitter and receiver are equipped with a rechargeable battery. The receiver takes 2 hours to fully charge and can be used for about 11 days. A full charge of the transmitter takes 2 hours, which can be used for about 90 days.

Number of dogs:
With the Patpet T504 electronic training collar you can supervise up to 3 dogs at the same time. You simply need to purchase an additional receiver. Then you simply switch between dogs using the button on the transmitter.

Display:
The Patpet T504 has a high quality backlit LCD display which makes it suitable for training at night. The screen displays icons for pulse, vibration, sound, correction level, battery indication, key lock and selected dog indicator.
Waterproof:

The Patpet T504 comes with an IPX5 water resistant receiver (it doesn't mind light rain or snow, it must not be submerged!). The transmitter has only the most basic water protection with IPX1 rating.

Collar length:

The adjustable nylon collar is comfortable for your dog to wear and suitable for almost all types of dogs of different sizes and breeds with weights from 10 kg. Comfortable for neck circumference 20 - 64 cm. The receiver and electrodes are protected by a protective rubber cover.

Weight and dimensions:

Transmitter: width - 4,5 cm; height - 15 cm; depth 2,8 cm. Receiver: width - 6,5 cm; height - 3,8 cm; depth - 2,6 cm and weight is 56 g.