30 day
Money Back Guarantee
Petwant F2 Wifi Automatic pet feeder 5 compartments
Petwant has developed a unique automatic feed dispenser for dry and wet food. This smart dish-shaped dispenser will give cats, small and medium dogs their favorite food throughout the day! You can control the dispenser with your phone! Take care of your pet's food, even when you are not at home. Thanks to the feeder, your pet will receive food exactly on time and in the right amount.

Main functions: 
Feeder for all types of feed

Control via the app on your smartphone

Manual setup option

Removable container for 5 compartments 

Safety lock

Backup power supply

Simple operation

Removable parts can be washed
Feed your pet without restrictions with the automatic feeder Petwant F2 Wifi! 
Basically all dispensers are available only for dry type of feed, but the Petwant device allows you to fill the dish with  dry, packaged moist and wet food. The plate-shaped device has 5 separate portion compartments, each compartments is designed for one serving of food for your small or medium pet. 
Petwant has many practical functions. It is a pleasure to use it.
The feeder offers several control options. With a simple app and connecting your phone to Wifi, you have a remote control for automatic and direct control.
In the app, you need to set the time for each of the 5 portion and at the certain time the feeder will open one of the compartments and allow the animal access to food. Other portion compartments remain closed, and your pet has no chance of eating additional portions (until the time comes).
You can also set the feeding time manually - on the control panel.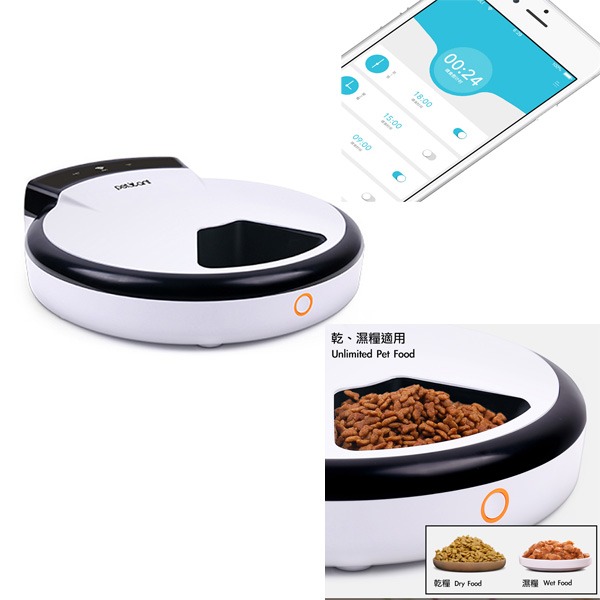 With Petwant feeder your pet is fed healthily and safely 
Every product that you use for your pet should be safe and healthy. The safety lock of the feeder ensures that the lid does not move and protects the feed inside without being pinched or injured. In addition, all portions will stay closed until the time comes.
Thanks to the ABS material, you don't need to worry about harmful substances such as Bisphenol A, which usually contain plastics.
Are you worried about the possibility of a power outage? Don't need to worry, because Petwant has backup power and in case of an emergency, the device will switch to battery operation.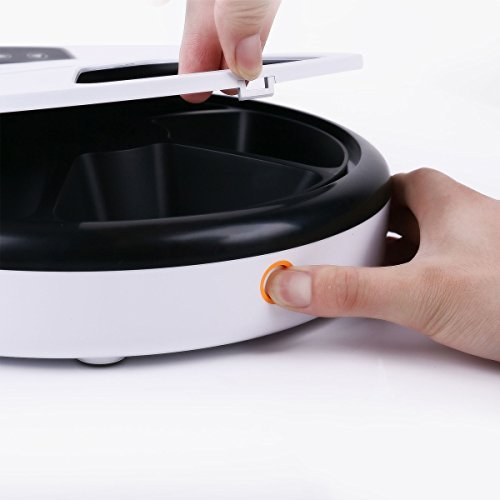 Тechnical service
Internal removable feed compartments, so you just take it off and wash it at any time. For perfect cleaning use non-aggressive products or soapy water.
Future, style, elegance...
The perfect design in the spirit of minimalism is inspired by the precision, simplicity and purity of technology from the future! The device does not take up much space, looks great and is easy to use. At the same time, the feeder takes care of the correct feeding of the animal. Everything you need for your pet!
Benefits
Handicaps

Feeder for all types of feed

3 control options

Control via the app on your phone

5 separate portion compartments

Safety lock

Backup power

Easy maintenance

Excellent design