30 day
Money Back Guarantee
Tractive GPS Tracker for dogs and cats
Tractive® GPS Pet Tracking devices help locate your dog, cat or other pet, anytime and everywhere. Locate your pet on a map in a browser or use free Tractive GPS app for smartphones. You can download the application here. The basic monthly charge for connection to a cellular data network is 3.75 €. All thanks to a box placed on the collar, which contains a GPS locator and an integrated SIM card (so you do not need to buy a SIM card) that provides the transfer of the GPS data to your smartphone or browser. And if you have more than one pet, you can add them all (an unlimited number of pets) into the Tractive GPS app.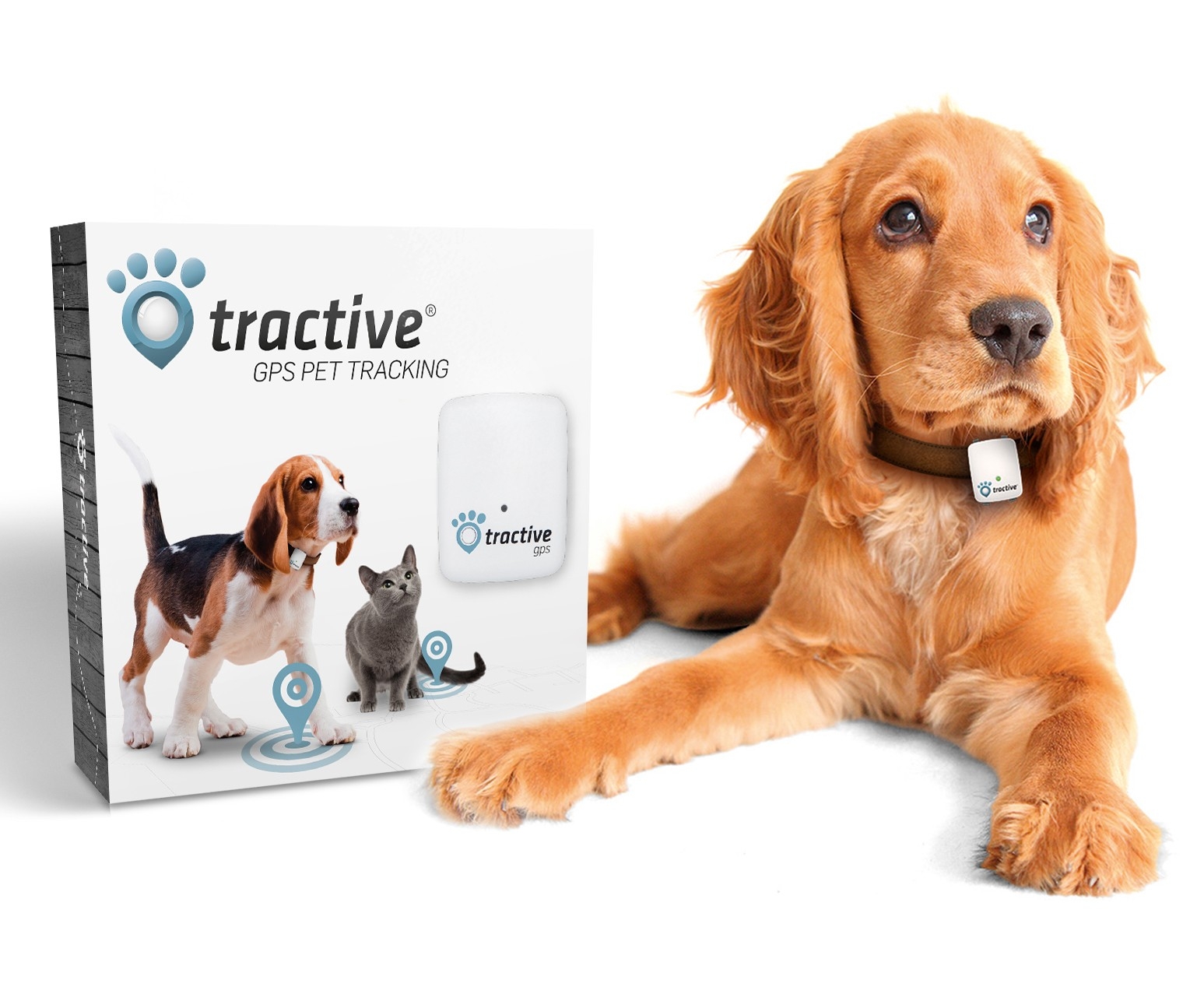 What Tractive GPS collar?
LIVE monitoring
Tractive GPS collar allows you to see where your pet is at the moment. With Tractive® LIVE Tracking program you see its current location on the map and you see the movement in real time, too. If it is not possible to see the current location of your pet, the app will show you the last known location as well as the location history.
Safe zone
Are you worried that your pet might run away from you? Are you tired of constantly keeping an eye on it? Problems solved! Simply define the 'safe zone' - a virtual fence, and whenever the pet leaves this zone, you will be immediately notified on your smartphone.
24-hour history
With Tractive® and the app, you can see where your pet was in last 24 hours.
Battery indicator
In case the battery of your Tractive GPS needs to be re-charged, the app will notify you in advance.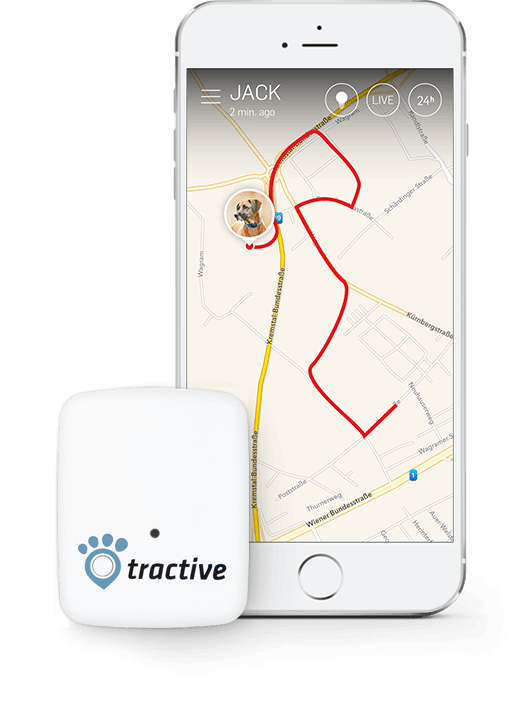 Tutorial for Safe Zone
Real Time tracking
Activation of GSM
If you've already purchased Tractive GPS collar, you can simply activate it on the producer website. Choose a monthly payment plan that suits your needs for all the services you need in order to connect the GPS device with your smartphone. In case you don't plan to travel very often, you can purchase the rate Basic which starts at 3,75 € per month. However, if you are a big traveller and you plan to bring your pet along with you, consider purchase of the rate Premium, which is 4,16 € per month. The Premium rate brings you some more features in your app, too.
The fees are necessary for providing a trouble-free 24-hour service. The most of the fees is associated with the operation costs. The biggest part of the cost is carried by the manufacturer. The good thing is, that this is not a classic monthly bundle rate from a telecommunication provider. There are no activation fees, data transfer fees or anything else.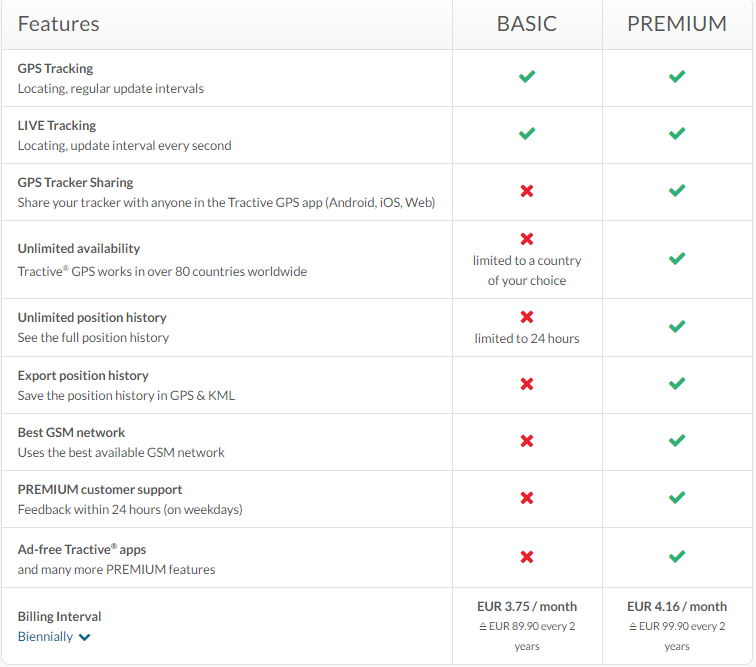 Basic features of the Tractive GPS
Integrated SIM card and GPS module
Exact GPS location with an immediate response
Route history and tracking of the last known location 
Following the route of your pet in real time
Safe Zone feature - virtual fence with an immediate response when violated
Monthly fee for GSM services starting at 3,75 € without any added or hidden fees
View of the distance between you and your pet
Push notification
Supported devices: iOS 7.0 and up, Android 4.03 and up
Waterproof into 1 meter (IPX7)
Firm plastic buckle for attaching the device up to 46 mm width and 6 mm thickness
Battery endurance 2-5 days
Fully re-charged within 2 hours
Size: 51 mm x 41 mm x 15 mm
Weight: 35 g
Recommendet for pets with weight 4,5 kg and higher.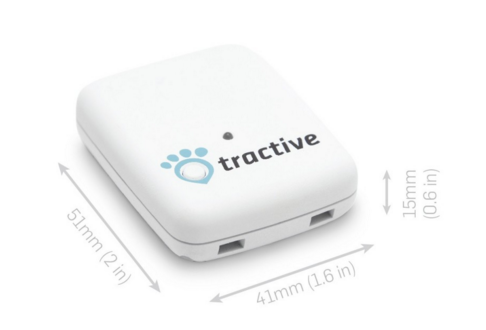 Locate your pet in more than 80 countries
Stop worrying about losing your pet abroad. Thanks to Tractive® GPS pet tracking device, your pet can be tracked and found in up to 80 countries (see the list below). This device uses a GSM to communicate with the Tractive app and your smarthphone. Based on this, the Tractive company has several agreements and deals with many mobile service providers in all of the countries listed below. 
Supported countries
Albania, Argentina, Armenia, Australia, Azerbaijan, Belgium, Bosnia and Herzegovina, Brazil, the British a virgin Islands, Bulgaria, Belarus, Chile, Croatia, Costa Rica, Montenegro, Czech Republic, China, Dominican Republic, Denmark, Egypt, Ecuador, El Salvador, Estonia, Finland, France, Gibraltar, Georgia, Guatemala, Hong Kong, India, Indonesia, Iceland, Ireland, Israel, Italy, South Africa, Cambodia, Canada, Qatar, Colombia, Congo (Dem. Rep.), Cyprus, Lichtenstein, Latvia, Lithuania, Luxembourg, Macedonia, Malaysia, Malta, Hungary, Mexico, Moldova, Nicaragua, Nigeria, the Netherlands, Norway, New Zealand, Germany, Panama, Paraguay, Peru, Poland, Portugal, Puerto Rico, Romania, Russia Greece, Seychelles, Singapore, Slovakia, Slovenia, the United Emirates, United States, Serbia, Sri Lanka, Spain, Sweden, Switzerland, Tajikistan, Thailand, Turkey, Ukraine, United Kingdom.
Benefits
Handicaps

possibility to run the feature remotely
integrated SIM card
24h monitoring in real time
exact GPS location with an immediate response
low operation costs and purchase price
notification when pet leaves the safe zone
waterproof
route history