The Patpet B600 anti-bark collar is suitable for all dog sizes from 5 to 60 kg. It detects the barking or howling of the dog with a special built-in microphone. Thanks to the sound detection, it is also ideal against howling. The collar is rechargeable, waterproof and has sound, vibration and pulse correction.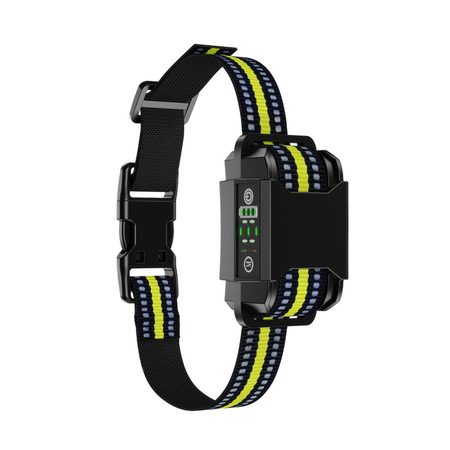 Barking detection
Patpet B600 uses sound to detect barking. It detects the barking or howling of a dog using a special built-in microphone in the collar. Therefore, if the dog starts barking or howling, the microphone detects it and the collar is triggered. The sound detection makes it ideal against howling as well.

Type of correction 
Patpet B600 use sound, vibration and impulse as correction in 6 levels. At the first bark, the collar warns the dog with a short sound tone together with the vibration. 

Setting the collar
The intensity of vibration, sound and pulse is available in six adjustable levels. From the six levels of vibration and sound intensity, you can easily choose the optimal one for your dog. The collar is suitable for small, medium and large dogs. All functions are controlled very simply by pressing two buttons and you can see your settings on the miniature display.

Batteries and charging
The Patpet B600 can be proud of its long battery life. The rechargeable battery, with a capacity of 500 mAh, can last up to 14 days of operation after 2 hours of fast charging. It depends primarily on how often the collar is triggered.

Waterproof

Patpet B600 is waterproof with IPX6 rating. This makes it suitable for both home and outdoor use. You can use it in rain or snow. It is not suitable for immersion.
Breed

Patpet B600 is recommended for all dogs weighing from 5 to 60kg. 

Collar length
Patpet B600 has a very strong black and green quality collar made of nylon. It doesn't give your dog a problem to wear it and it holds well on his neck. The length of the collar is adjustable from 5 to 70 cm. 

Weight and dimensions
Patpet B600 has a very small, lightweight and ergonomically shaped collar that is 3 cm wide, 6.5 cm high, 3 cm deep and weighs only 42 grams.