The use of a training collar can help eliminate unwanted behaviors in your dog such as excessive barking, naughty jumping, or pulling on the leash. This revolutionary dog training collar has a range of 550 meters and can be used indoors, in your backyard, and around water as it has waterproof protection. The color and size distinguishable buttons allow for one-handed operation and the dual channel allows you to train 2 dogs at the same time, by adding an additional receiver. The remote control collar can be recharged simultaneously using any USB adapter. The lithium polymer batteries charge in just 2-3 hours and provide up to 14 days of functionality. The rigid plastic collar ranges from 20 to 65 cm and fits most dogs weighing from 15 to 90 kg. Choose from sound, 100 levels of pulse and vibration modes, protection modes activate if you send too many stimulations in a row. Short and long silicone contact point attachments are also included to ensure maximum comfort for your furry friend.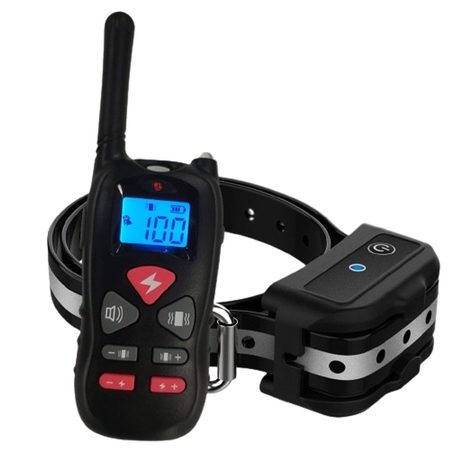 Type of correction:
The Reedog P11 training collar offers 3 training modes. The dog is directed by sound, vibration or electrostatic pulse. Vibration and pulse offer 100 training modes, sound cannot be adjusted.

Range of the collar:
With the Reedog P11 training collar you can train your dog up to 550 metres. The range is sufficient for both basic and professional training of most dogs. You can use the training collar in the city as well as in the woods.

Batteries and charging:
Both the Reedog P11 transmitter and receiver are equipped with a rechargeable battery. The recharge rate records 2 -3 hours to full charge, using the included dual USB cable. Transmitter battery life is up to 60 days, receiver battery life is approximately 14 days.

Number of dogs:
By adding an additional collar, you can easily extend the Reedog P11 training for up to 2 dogs at once. You can then easily switch between dogs using the button on the transmitter.

Display:
The Reedog P11 has a high quality backlit LCD display which makes it suitable for training at night. The display has indicators for correction strength, battery charge status and a selected dog indicator.

Waterproof:
The Reedog P11 dog training collar is only water resistant with an IPX5 protection rating. It can only be used in light rain, however, prolonged exposure to water and diving is not possible. This makes the collar an ideal choice for basic use, but not for dog training in water. The transmitter has the most basic water protection with IPX1 rating.

Collar length:
Adjustable plastic collar with reflective strip is comfortable for your dog to wear and suitable for almost all types of dogs of different sizes and breeds. Comfortable for a neck circumference of 20-65 cm and a width of 2 cm. You can also use your own collar.

Weight and dimensions:
The dimensions of the receiver are: width 3.6 cm; height 6 cm; depth 3 cm and weight is 60 grams. The dimensions of the transmitter are: height 14.3 cm; width 4.5 cm; depth 2.5 cm and weight is 59 grams.