30 day
Money Back Guarantee
Cheerble Wicked Ball
Wicked Ball is a unique automatic smart toy designed to eliminate the feeling of loneliness and boredom of your pet during your absence. Lots of fun and activity - this is what your pet need! Waterproof toy made from safe, rubber material. The device offers three reaction modes: delicate, normal and active.
Main characteristic:
Easy to clean - Wicked Ball is waterproof, so just wash it in water
Long battery life - 1 hour of charging will give up to 8 hours of play
Protective mechanism -  when you open the cover, Wicked ball will immediately stops 
Smart mode - 10 minutes of active play + 30 minutes of rest
100% automatic - provides fun, interaction and exercise during your absence
Built-in sensor - if the Wicked Ball hits an obstacle, the ball will automatically turn and roll in the opposite direction
Quality materials - Wicked Ball is made of high-quality materials that are resistant to bites and scratches
Color options - green, blue and yellow
Weight: 200 g, diameter: 77 mm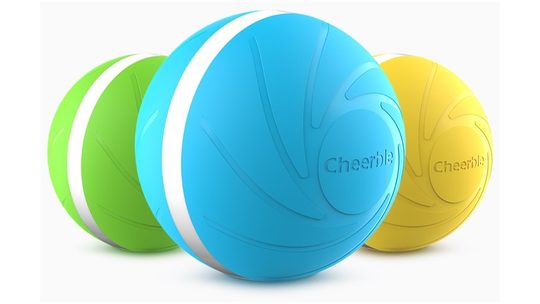 Wicked Ball is designed to eliminate the feeling of loneliness and boredom of your pet when you are away.
During your absence, Wicked Ball is completely autonomous and can entertain your pet for a long time, the operating time after a full charge is 8 hours.
Wicked Ball má 3 reakční režimy pro interakci: jemný, normální a aktivní. Je super snadné rozhodnout, který režim zvolit, stačí otevřít vnější skořepinu a zapnout jej stisknutím tlačítka Wicked Core po dobu 3 sekund. Režim se pak přepne pokaždé, když kliknete na tlačítko Wicked Core. Tři barevné LED diody nabídnou režimy: zelená -  jemný režim, modrá - normální a růžová - aktivní režim. 
Wicked Ball has 3 reaction modes for interaction: delicate, normal and active. It is very easy to activate the selected mode - just open the device and turn it on by pressing the Wicked Core button for 3 seconds. Then the mode will switch every time you click the Wicked Core button. Three LEDs color offers the following modes: green - delicate mode, blue - normal, pink - active.
Blue - movement and shaking, Green - calm and rest, Pink - rapid shaking and jumping.
Benefits
Handicaps

No need to download the app
3 reaction modes (delicate, normal, active )
Color LEDs
Charging with a USB cable
100% automatic
Easy to clean
Long battery life
Protective mechanism
Built-in collision sensor
Durable
Multiple color options