30 day
Money Back Guarantee
Tracker G1000 Maximal
Tracker is a communication system for hunters and outdoor enthusiasts, consisting of tracking collar for dog tracking applications and Tracker Live ™ cloud services. Tracker provides accurate position of dogs and your friends in any area in real time on high-quality topographic maps, satellite images or compass with communication within the group.
Maximal Tracker G1000 is the first GPS tracking collar, which alone supports 3G network! This is a choker future generations of the GPS collars.
Compatible with 3G mobile networks brings the long-term availability through advanced technology, better, faster and more reliable data connection and transmission!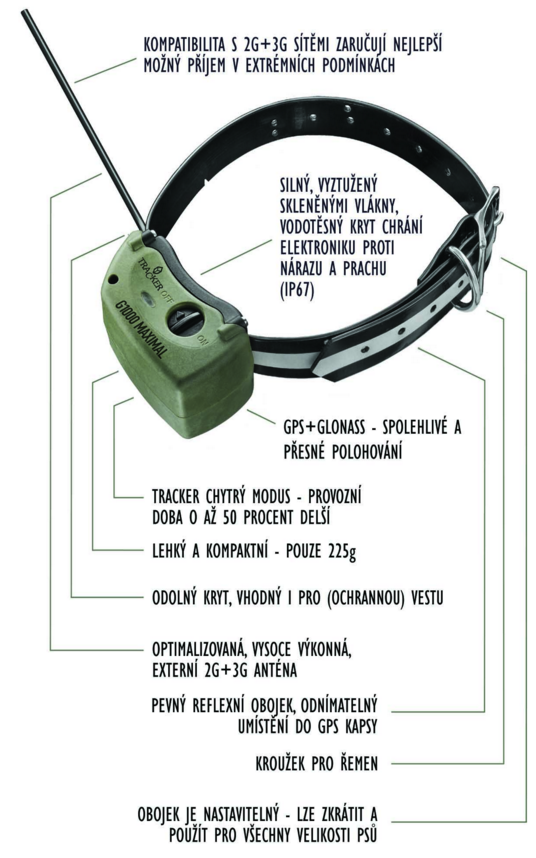 What is the Tracker system consist of?
From one or more collars and the number of dogs.
any of a SIM card with the data (e.g. Tracker SIM)
Mobile applications for Android Tracker or Tracker for iOS
Your mobile device
One mobile phone can receive the position of dogs and other mobile devices with Tracker applications unlimited number of devices.

Tracker how the system works?
Position the dog collar sends everyone on a central server with its own ID to Finland. It then sends the position automatically to your mobile phone. Transfer positions goes through mobile data, so it is possible to real-time monitoring has every 3 seconds. Since data transmission at the collar is minimal (about 0.5 megabytes per one day real-time monitoring), the cost of using nearly zero.
Compatible applications: for Androind Tracker, Tracker Web App
Sample applications Tracker:
Benefits
Handicaps

monitoring the position of your dogs and dogs from your friends
very good resolution maps
very good GSM reception
audio cues
faster and more reliable data connectivity 3G
does not need the transmitter, just your cellphone