30 day
Money Back Guarantee
PETKIT Fresh element Gemini food dispenser for dogs and cats
How many times have your pet's bowls been empty? Now there is a reliable solution, the Petkit Fresh Element Gemini is the latest food dispenser that offers plenty of options. Designed with an innovative double hopper that can store and dispense different sizes of pet food, you never have to worry about giving your pet food at the wrong time. The patented dual food distribution mechanism ensures that food is dispensed evenly and at the correct rate, ensuring consistent feeding times. If food ever gets stuck in this product, you don't have to worry because it is designed to ensure that no matter the size or shape of the kibble, it will always flow freely and smoothly.
Thoughtful device design
The Petkit Fresh Element Gemini dispenser has a modern and very sophisticated design. The food tank is divided into 2 parts and the total capacity is 5 litres, which is sufficient for feeding cats up to 30 days old. The product is divided into 2 chambers: one with a capacity of 2 litres and the other with a capacity of 3 litres. In addition, it is equipped with a dehumidifier that prevents the food from getting moldy, so that the food always stays fresh and fresh. Prepare your pet's own nutritious meals for a richer and healthier diet, or add extra supplements or snacks for your picky pet and divide it into individual chambers. The dispenser has a clear indicator so you'll know when to refill the food in each container. The long and wide stainless steel food bowl is health-safe and large enough for two cats to eat at the same time without feeling overcrowded. In addition, it is equipped with a special child-proof lid lock.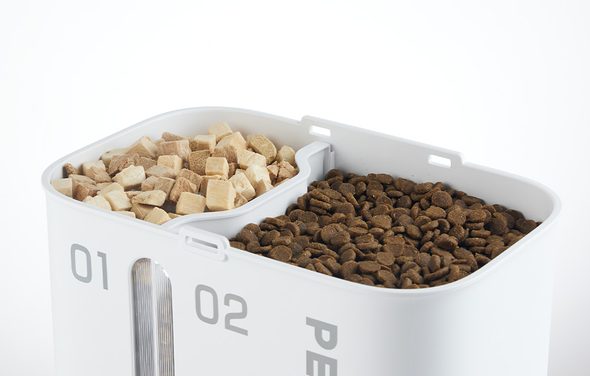 Modern dispenser solution
The dispenser is equipped with special paddles that rotate clockwise so that food is dispensed at regular intervals. What's more, the 4-stage system prevents clogging of the food in the tank. In addition, the Fresh Element Gemini is suitable for a variety of feed types that do not exceed 12 mm in diameter.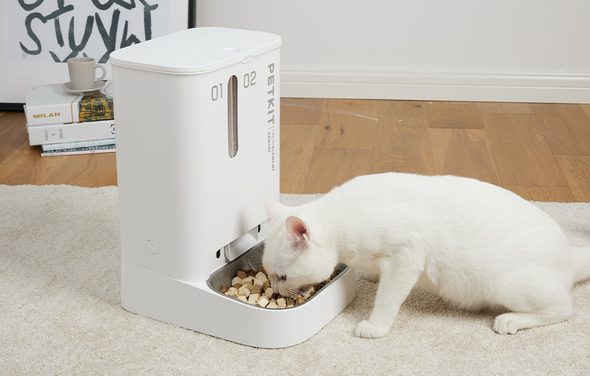 Control via app
Download the free PetKit app to access practical functions and settings. Use it to customize your meal portions - up to 10 servings per meal and up to 30 meals per day. What's more, the app allows you to create schedules to further customize the device to your pet's habits. From its level, you can also set additional feeding portions and monitor your pet's health. You'll also be alerted when there's no food in the pantry or the desiccant needs to be replaced.
Feed your pet anytime, anywhere
Customize a personalized feeding schedule
Check the power status of the device
Alert for food shortage
Remote manual feeding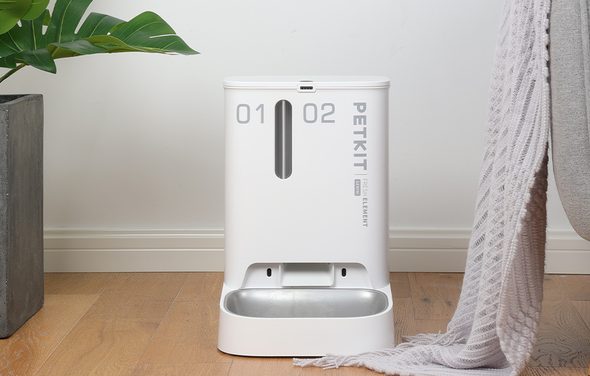 Efficient power supply
The device is equipped with an efficient power system, a backup power supply ensures that feeding will continue as scheduled during a power outage or without an internet connection. Your pets will never be short of food when you are not at home. The emergency power supply provides 15 servings of food per day for approximately 180 days (in power saving mode). The battery backup power supply operates on 4x D batteries.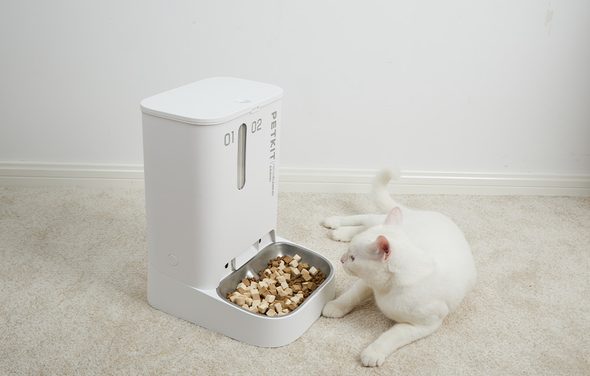 Benefits
Handicaps

2 large feed bins in one device
Feed your pets easily and from anywhere
Control automatically or manually at the touch of a button
Internal anti-tamper mechanism
App compatible for your Android or iOS
3-layer freshness lock technology
Easy to assemble and clean every corner
Safety lock, prevents accidental touching of the button
Continuous feeding even during power failure and WiFi disconnection