Wireless electronic fence PetSafe PIF-300-21 is top class device that will guarantee a long-term trouble-free operation and safe for your dog. The invisible fence is designed primarily for large dogs and very resistant breeds. It can be used for almost all types of installations, even the most complex. PetSafe for large dogs has adjustable power pulse, and in 5 levels. It is the most powerful fence on the market, occupies where the other devices are inadequate. If you want to be absolutely sure that your dog will have the respect of the exclusion zone, the electronic fence PetSafe clear choice.

Zone setting

For wireless electronic fence PetSafe PIF-300-21 you set up a zone  for warning and correction of one controller on the base together. The maximum distance that can move a dog from the base is 27.5 meters (this is therefore the radius). The minimum distance is about 4 meters.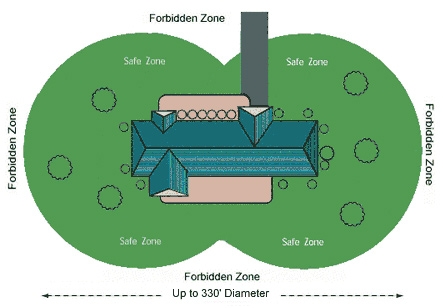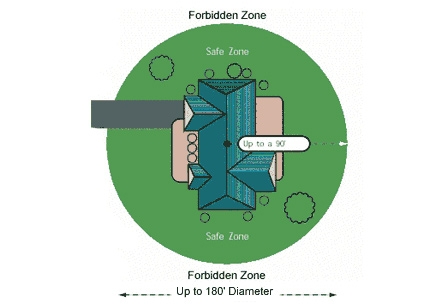 Correction type

Wireless fence PetSafe PIF-300-21 has 5 levels of electrostatic correction and audio warnings. The force impulse is suitable for larger breeds. This is the best wireless fence to the market reliably monitors your dog and let him leave the space marked out.

Wire

Wireless fence PetSafe PIF-300-21, as the name suggests, does not need any wire. Signal is transmitted to a distance of 27.5 meters from the base in each direction.

Battery and charging
Receiver for PetSafe PIF-300-21 is powered by special batteries RFA-67, which are available from us or any dealer PetSafe. Her endurance in continuous operation is 3-6 months. It has LED indication of battery status. The base is powered from the network. We recommend that you buy a backup power supply with battery for operation during power failure - due to the fact that the interruption of the signal transmission from the base unit will activate the correction.

Waterproof

PetSafe PetSafe PIF-300-21 has a fully submergible receiver and its use is recommended in the rain and very humid environment. The dog with the receiver can jump into the pool and swim indefinitely. The base is not waterproof, it is recommended to place it in a dry environment. It can also be placed outside, but so that it did not rain over it.

Number of dogs

PetSafe PIF-300-21 can be used for an unlimited number of dogs. With the purchase of other collars you can simply expand.

Collar lenght
PetSafe PIF-300-21 has a very nice quality dog collar made of nylon. Collar length is adjustable from 20 to 70 cm.

Size
The base has a width of 24 cm, height 24 cm and depth 20 cm. The receiver has a width of 6.1 cm, height 2.7 cm and depth 4.2 cm and its weight is 71 g.