30 day
Money Back Guarantee
Automatický záchod pro kočky ScoopFree Ultra
Self-cleaning toilet for cats ScoopFree ™ Ultra from PetSafe is an excellent tool for any keeper to ensure the cleanliness and pleasant fragrance.
ScoopFree toilet was exerted after years of testing and made of high quality materials that exceed the highest standards.
It is easy to set up and use
Easy to keep clean
Automatically sweep waste into the masked area, so you feel or do not touch the waste.
Locks liquid and solid waste in an indoor space. It uses a special crystals that demonstrably stops odors
ScoopFree Ultra variant has an additional variant of the Original option to manually adjust how quickly they hrabličky in a restroom activated when the cat leaves the toilet (5,10,20 min). This variant also has toilets sensor that monitors how often a cat uses the toilet, and thus indicate possible health problems.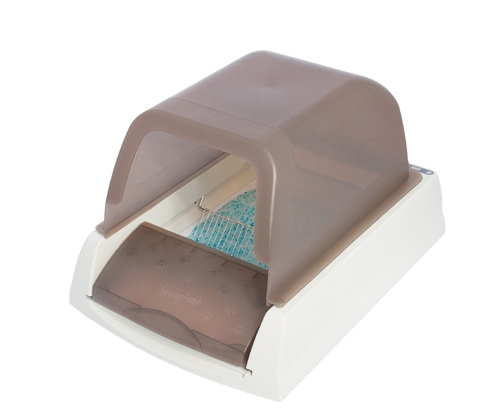 You can leave ScoopFree without replacement crystals for several weeks (depending on the number of crampons). It uses disposable / replaceable crystals in a cardboard box.
* Toilet just simply turn on and enjoy the convenience and cleanliness
* Rakes of the toilet automatically rake out the waste 5,10 or 20 min. after usage
* Safeties to stop the movement rakes if the cat re-enter the space (reset)
* Monitor health status will show how often a cat uses the toilet, what may be her health indicator 
* Waste crystals are 5 more efficient in capturing the waste and odor control than conventional similar products
* Uses 5-10 times less litter (eg. Clay etc.).
* Tested on more than 100,000+ repeat raking without any fault on equipment
Crystal change:
1 cat  //  20-30 days
2 cats //   10-15 days
3 cats   //   7-10 days
4+ cats  //   7 days