30 day
Money Back Guarantee
Smart feeder for cats and dogs Pawbo Crunchy
Is it time to feed your pet? Pawbo Crunchy - exactly what you need!
Thanks to unique Pawbo Crunchy features, you can know the exact amount of food your pet is eating. Your fluffy friend will never be hungry again and will not gain an extra weight. Set the feeding time and the amount of food your pet need and Pawbo Crunchy will take care of rest. The Pawbo Crunchy feeder will get you know the amount of calories, crude fat, crude protein and crude fibres your pets eat every day. Pawbo Crunchy has a backup battery so that your pet will never  left hungry.
Dimension:
Control

with your smartphone

Easy to set up a feeding plan

Voice recording option (up to 10 seconds)

Set up to 10 meals per day

Battery as a backup power source

Suitable for granule sizes from 0.3 to 2 cm

The special circular mechanism 

Weight: 2.3 kg, dimensions: 36.1 x 42.2 x 32.8 cm
Your pet is to hasty when eating or does he choke? Set up 10 small meals per day. This avoids health issues such as choking or gastric torsion that can be fatal for your pets. It is enough to fill the granule tank and set the time for dosing each portion. You can set the feeding mode manually or by using the specially Pawbo Crunchy app (no matter where you are).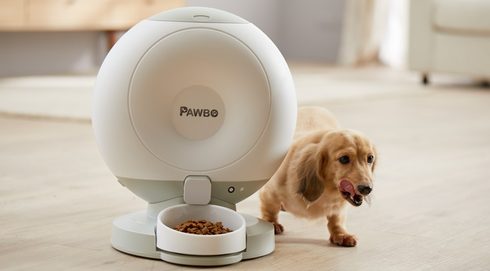 The smart pet feeder has a unique dispensing system that assures that food will never gets stuck. The device is suitable for all types of granules with size from 0.3 to 2 cm. Pawbo Crunchy is fully dismountable. This makes it easy to clean. All important buttons and adapter input are hidden at the bottom of the feeder to prevent accidental and unwanted touching.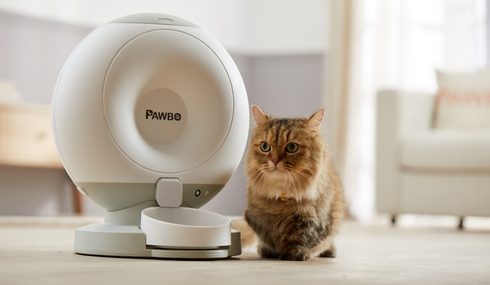 The Pawbo Crunchy app is compatible with iOS (from version 8.0) and Android  (from version 4.4). The app will allow you to record a short audio message that your pet will always hear before feeding.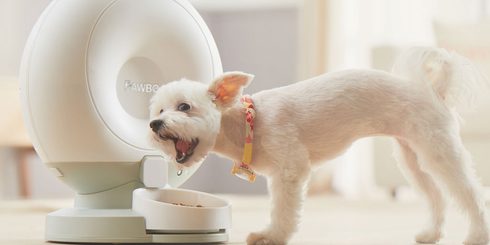 Benefits
Handicaps

Control

with your smartphone

Modern design

Automatic

feeding

plan

Special dosing mechanism

Up to 10 meals per day

Battery as a backup power source

Dismountable parts

Circular dosing mechanism

Large tank capacity - 6 l

Suitable for dry food

with size from 0.3 to 2 cm.

Voice recording (up to 10 seconds)