30 day
Money Back Guarantee
Patpet - automatic feed dispenser with wi-fi
With the Patpet automatic pet food dispenser, you can ensure that your pet never runs out of food even when you're away. The dispenser is easy to program using the free app, which can be downloaded for Android or IOS, where you can set a timer that dispenses the food and portion size at the selected time. You can set the dispenser to dispense one to four meals per day and up to nine servings per meal. So your pet doesn't have to wait until the evening or morning to eat. The 6 litre capacity of the dispenser will ensure feeding for up to several days. You can easily operate the operator panel with its clear LCD display even in the dark, as it is backlit. The battery backup ensures reliable operation even in the event of a power failure.
Main functions
Backlit LCD display
Dry feed hopper capacity 6 l
Removable parts
Safety key lock
Voice recording within 10 s
Dual power supply - Power adapter, battery
Manual feeding or via mobile app 
Dry feed only, granule size 2 - 10 mm
Battery level indicator
Non-slip feet on the bottom of the unit
Free mobile app for Android and IOS
Mobile phone control
The Patpet feed dispenser is Wi-Fi connected and can be conveniently controlled via a mobile app available for both iOS and Android. With the app, planning feeding is very easy. You can schedule several feeding times with different sizes of individual portions. You can also press the feed button at any time and manually dispense one portion of a preset size. You can also coax a short 10 s voice recording to play just before feeding to summon your pet. 
Application for download: 
For IOS - https://apps.apple.com/us/app/tuyasmart/id1034649547
For Android - https://play.google.com/store/apps/details?id=com.tuya.smart&hl=cs&gl=US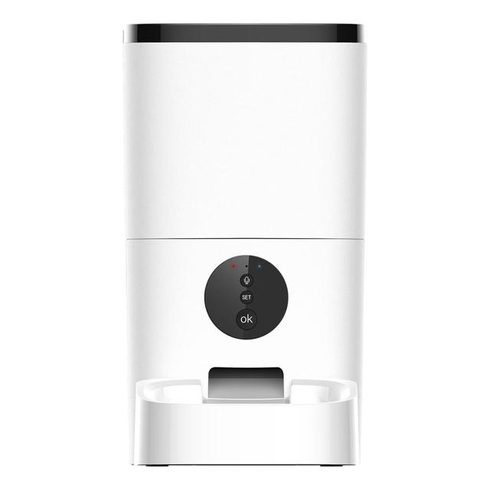 Feed container volume 
The Patpet dispenser can hold up to 6 litres of pellets at a time. With standard portions, this container is enough for up to 10 doses, which will provide your pet with enough food for several days. Different types of kibble can easily be poured into the dispenser, the maximum size is up to 10 mm. You can set the dispenser to dispense one to four meals per day and up to nine portions per meal, so your pet gets the ideal dose and doesn't eat all the kibble at once. You can easily schedule feeding times and portion sizes using the buttons on the clear display.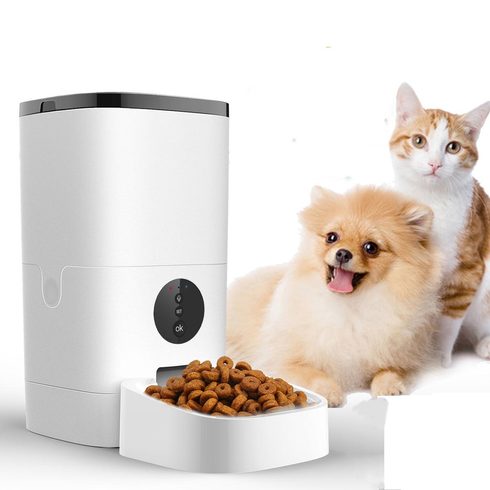 Feeding even during a power outage
The dispenser is preferably powered by a charging adapter, which is included in the package. Backup batteries 3x D batteries are located in the bottom of the dispenser (not included) and work reliably even in the event of a power failure. Your pets will thus have plenty of food and ensure uninterrupted operation for several days.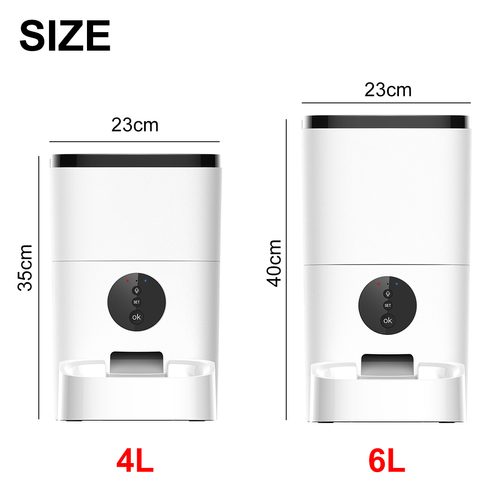 Clear backlit display 
The feed dispenser is easy to use thanks to the simple control panel on the front of the dispenser, which is designed for quick operation with just a few clearly arranged buttons and a clear backlit display that you can easily operate even in the dark. The buttons also have a safety lock, for accidental pressing by an animal. The display shows: battery status, current time, locked/unlocked buttons, feeding time and portion size. 
Benefits
Handicaps

Free app for Android and IOS
Removable parts for easy cleaning
10s voice recording option
LCD backlit display
Easy setup with buttons
Time and food portion settings
Automatic/manual feeding
Battery as backup power source

Does not have a video camera
Dry feed only